Boy Scouts proposal to allow gay youths draws fire from both sides
(Read article summary)
The Boy Scouts drafted the proposal on gay youths after sending surveys to about 1 million members. Many respondents, the organization said Friday, felt that youths should not be denied the benefits of Scouting.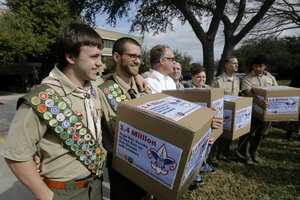 Tony Gutierrez/AP/File
The Boy Scouts of America (BSA) is proposing to lift its ban on gay youths, but not gay adults, the organization announced Friday, responding to pressure from gay rights advocates to drop restrictions in its membership policies.
The proposal, which will be put to a vote at its National Council meeting in May, is a change of course from the plan it floated earlier this year, which would have given local units the option to either include or exclude gay members. The new policy states that "no youth may be denied membership in the Boy Scouts of America on the basis of sexual orientation or preference alone," Deron Smith, the organization's spokesman, told Reuters.
The new position is already drawing criticism from groups on both sides of the issue. Gay rights advocates say the BSA should lift the ban for both youths and adults, while conservative groups and churches support keeping the ban in place.
"By refusing to consider an end to its ban on gay and lesbian parents, the Boy Scouts have missed an opportunity to exercise leadership and usher the organization back to relevancy," Rich Ferraro, a spokesman for GLAAD, which promotes lesbian, gay, bisexual, and transgender rights, told Reuters.
GLAAD, together with Scouts for Equality, supported campaigns that amassed 1.6 million signatures for an online petition on Change.org that calls for an end to banning gays from the Boy Scouts.
---