Cleveland kidnappings: what abductions should teach worried parents
(Read article summary)
The Cleveland kidnappings scenario portrayed in court documents is a familiar nightmare for parents, who should take the opportunity to teach their children about safety, experts say.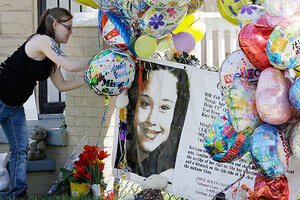 Tony Dejak/AP
New details in the Cleveland kidnapping case reveal how Ariel Castro allegedly kidnapped three young women, two of whom he did not know and one who was his daughter's friend.
The scenario portrayed in the documents filed Thursday in Cleveland Municipal Court is a familiar nightmare for parents, involving the seemingly innocent offer of an unplanned ride to a young person by an adult male, whether a stranger or acquaintance.
According to the documents filed in court, Ariel Castro offered Michelle Knight, Amanda Berry, and Gina DeJesus rides home on separate occasions between 2002 and 2004. Instead of taking them home, he took them to his house on Seymour Avenue where he kept them captive until this week, a period ranging from 9 to 11 years.
With all the media attention on the case, child experts say this is an opportunity for parents to talk to their children about what to do if someone attempts to abduct them.
"Every parent needs to have age-appropriate conversations with their children about their safety to-and-from school, at school, and in the community," said Kenneth Trump, president of the National School Safety and Security Services, in a statement Wednesday. "Whether they are five or 15, we should not assume that children know the seriousness of potential threats or know what to do if they are confronted."
---