Death penalty for Ariel Castro? Official cites captives' miscarriages, 'torture'
(Read article summary)
Police reports say Ariel Castro forced miscarriages of one of three women he allegedly locked in a Cleveland house for about a decade. That may be grounds to seek death penalty, says an Ohio county prosecutor.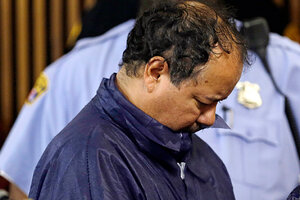 Tony Dejak/AP
Prosecutors may seek the death penalty in the case against a Cleveland man accused of kidnapping and holding captive three young women for years, on the basis of police reports that he allegedly forced miscarriages during the women's detainment, officials announced Thursday.
Ariel Castro was arraigned Thursday morning in Cleveland Municipal Court, charged with four counts of kidnapping and three counts of rape. He did not enter a plea at the hearing. He is being held on $8 million bail, which is higher than the $5 million requested by the prosecution.
Details about the conditions and abuse of the women – Michelle Knight, Amanda Berry, and Gina DeJesus – have emerged as the prosecution presented its case against Mr. Castro. The women were kidnapped between 2002 and 2004 when they were 21, 16, and 14 years old. Castro allegedly lured the victims into his car, promising to give them a ride home, but took them to his house, where he kept them confined for about 10 years.
While in captivity, Ms. Berry gave birth to a daughter who is now 6 years old, said police reports. Ms. Knight said she had at least five miscarriages caused by Castro. The three women were repeatedly beaten and raped, police reported.
"The horrific brutality and torture the victims endured for more than a decade is beyond comprehension," Cuyahoga County Prosecutor Timothy McGinty said during a news conference.
---