Julian Assange hints WikiLeaks might publish next Edward Snowden revelations
(Read article summary)
WikiLeaks founder Julian Assange said Wednesday his organization is helping Edward Snowden seek asylum in Iceland. Assange also hinted that he might publish Snowden's next revelations.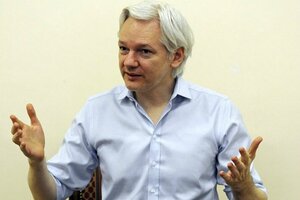 Anthony Devlin/REUTERS
National Security Agency leaker Edward Snowden is getting help from WikiLeaks founder Julian Assange.
On a conference call with reporters Wednesday, Mr. Assange confirmed reports that WikiLeaks is helping Mr. Snowden's effort to gain asylum in Iceland.
"We have been in contact with Snowden and have been helping him," he said. "I feel a great deal of personal sympathy with Mr. Snowden."
Assange also implied that WikiLeaks may well publish future revelations that Snowden says are forthcoming. WikiLeaks is best known for making public vast amounts of classified information provided by US Army Pfc. Bradley Manning, who is now in the midst of a court-martial for the largest leak of classified documents in US history.
"As a matter of policy, we don't speak about investigations or upcoming publications," Assange repeated several times Wednesday, refusing to say whether he had spoken directly with Snowden. But, he hinted, "significant material will be published in coming weeks."
For his part, Assange is marking the one-year anniversary of being holed-up in the Ecuadorian Embassy in London in order to avoid questioning about alleged sexual offenses in Sweden. Rather than hampering his WikiLeaks work, he said, his self-imposed isolation means that he has nothing else to do but continue with the controversial whistle-blower organization's efforts.
---