Pressure intensifies on San Diego Mayor Bob Filner to resign
(Read article summary)
Pete Wilson, a former San Diego mayor, has added his voice to those calling on Bob Filner to resign as a recall effort gets under way Sunday. Filner shows no signs of leaving office despite disgrace.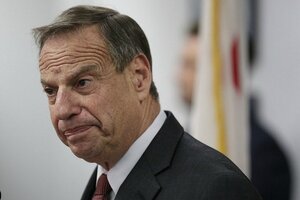 Gregory Bull/AP
The pressure on San Diego Mayor Bob Filner to resign just keeps getting more intense.
Peggy Shannon, a volunteer city worker who assists senior citizens, said Thursday that Mayor Filner – already accused by more than a dozen women of inappropriate conduct – repeatedly asked her to rub his hands, requested dates, and made sexually suggestive comments so upsetting she went home and cried.
Meanwhile, the list of prominent officials calling on Filner to step down continues to grow.
Former San Diego Mayor Pete Wilson (who also served two terms each as California governor and a US senator) says Filner "has rendered himself unable to fulfill the obligations of his office."
"It has been all consuming, and I have no idea whether we've seen the last of it yet," Mr. Wilson told U-T San Diego (the newspaper formerly known as the San Diego Union-Tribune) earlier this week. "He has not brought any credit to himself or his office. I think the people of San Diego deserve a better representative."
House minority leader Nancy Pelosi (D) of California, who had called Filner's behavior toward women "reprehensible," now says her fellow Democrat should resign.
"Mayor Filner is out of rehab, he should be out of the Mayor's office – should not subject San Diegans to pain & expense of a recall," the San Francisco Democrat tweeted Thursday.
Among others who have told Filner he should resign are California's two Democratic US senators (Dianne Feinstein and Barbara Boxer), all nine members of the San Diego City Council, and both the Democratic Party of San Diego and Democratic National Committee Chairman Debbie Wasserman Schultz, a US representative from Florida.
---