Why did NSA spy on UN? Not to counter terrorism, secret documents show.
(Read article summary)
A report in the German news magazine Der Spiegel claims that documents obtained by Edward Snowden show that the NSA has spied on the UN and European Union.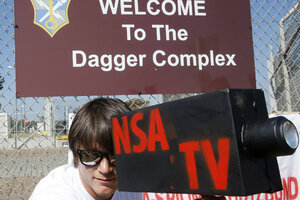 Michael Probst/AP/File
The National Security Agency (NSA) has bugged United Nations and European Union internal communications, according to secret documents obtained by former intelligence contractor Edward Snowden and disclosed by the German news magazine Der Spiegel.
The story, published Sunday, charges that the NSA "infiltrated the Europeans' internal computer network between New York and Washington, used US embassies abroad to intercept communications, and eavesdropped on video conferences of UN diplomats." Among the UN activities targeted by the NSA, Der Spiegel says, was the UN's Vienna-based nuclear watchdog, the International Atomic Energy Agency.
The report also asserts that there are "secret eavesdropping posts in 80 US embassies and consulates around the world," which the NSA operates along with the Central Intelligence Agency. The program is referred to as the "Special Collection Service."
---