Yosemite fire grows slowly, but so does containment
(Read article summary)
The Rim Fire has grown into the fourth-largest in California history, but containment is now up to 40 percent. As officials look for what caused the two-week blaze scorching part of Yosemite, one suspect is a marijuana-growing operation.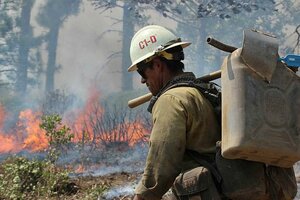 Mike McMillan/U.S. Forest Service/AP
The massive blaze known as the Rim Fire has become California's four-largest fire ever, at times filling Yosemite National Park with smoke as Labor Day weekend visitors try to enjoy one of America's natural crown jewels.
Firefighters are making steady progress – containment increased from 35 percent Saturday to 40 percent Sunday – but the conflagration burning for two weeks now has grown to 348 square miles, including about six percent of Yosemite's backcountry.
"Despite firefighters' efforts, the remote Rim Fire burning near and in Yosemite National Park continues to be very active," the California Department of Forestry and Fire Protection said in a statement Saturday morning.
Firefighters have carried out controlled burns around two groves of Giant Sequoia trees – the largest living things on earth, some of which are believed to be 2,000 years old – to clear away debris that could otherwise fuel a fire to such an intensity that it dangerously licks at the trees' crowns.
"We are working very hard to protect that," said fire incident spokeswoman Leslie Auriemmo. "All the lines are in place so it doesn't go into those groves."
---