Family dynasty fills Bhutto vacuum in Pakistan
Benazir Bhutto's party named her son and husband as new leaders, following a South Asian tradition of keeping political power in the family.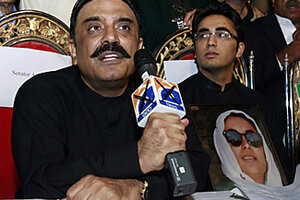 Zahid Hussein/Reuters
In bequeathing a 19-year-old son and a husband beset by charges of corruption the reins of her party, Benazir Bhutto went to extraordinary lengths to ensure that control of the Pakistan People's Party (PPP) remained in family hands.
The very mode of the declaration Sunday would be unheard of by the Western standards of election war rooms and party caucuses. But it is quintessential South Asia, where many parties are not breeding grounds of new talent but fiefdoms structured to uphold a family dynasty.
The same is true in India, where Congress Party chief Sonia Gandhi is grooming her son, Rahul, to take over the party. In all, the nation has been ruled by one of the Gandhi-Nehru clan for 37 of its 60 years.
This is partly the product of the peculiarities of South Asian politics, where elections are often won less on ideology than on traditional allegiances, particularly in Pakistan. It has meant that, even in Ms. Bhutto's death, there is little space for new blood – creating a political glass ceiling for anyone outside the family line.
---