Iraqi Christians cling to last, waning refuges
Al Qaeda-linked militants and Kurdish ultranationalists are both pressuring Iraq's largest Christian enclave.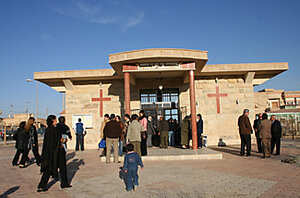 Sam Dagher
The bullets lay on the desk amid Bibles and rosaries. They're for two pistols owned by Father Ayman Danna.
"The only solution left for our people is to bear arms. We either live or die. We must be strong," says the Syriac Catholic priest at the Church of Saint George in Bartella, a northern Iraqi town in a swath of fertile land called the Nineveh Plain that now has the largest concentration of a dwindling Christian community.
The Christians who fled sectarian persecution that followed the US invasion in 2003 are now battling to hold onto one of their final refuges. They are increasingly besieged by Sunni Arab militants on one side and by Kurdish ultranationalists on the other – both of whom have different agendas for the area.
In a sign of how grim the situation has become, Paulos Faraj Rahho, archbishop of the Chaldean Catholic Church in nearby Mosul, was kidnapped last Friday and three of his companions were killed.
On Tuesday, Iraqi Prime Minister Nouri al-Maliki said everything must be done to secure Archbishop Rahho's release, days after Pope Benedict XVI described his abduction as "abominable." Sources in the Nineveh Plain say the kidnappers are asking for $1 million in exchange for Rahho's release.
---