Reporters on the Job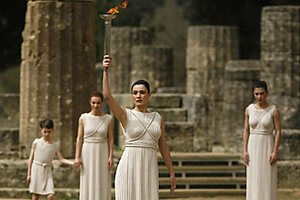 PHil Ipparis/AP
• Campaign Costume: On Friday night, when the last rallies for the Taiwanese presidential campaigns were held, reporter Simon Montlake had his journalistic integrity challenged. He had a prior dinner engagement with his wife's extended Taiwanese family. But after the feast, one of his in-laws said she wanted to go to the KMT [Kuomintang Party] rally.
"At the rally, which faced an outdoor stage where speeches and songs revved up the crowd, my journalist's neutrality was tested as my uncle-in-law handed me a baseball cap and flag to wave," says Simon. "I tried to explain that I was an observer and shouldn't take sides, but my uncle insisted. Fortunately, I didn't stay for long, so nobody spotted my KMT moment."
– David Clark Scott
World editor
• Monday, March 24:Bhutan – First national election.
---