Taiwan president-elect's bold mandate: improve ties with China, U.S.
Ma Ying-jeou, a former mayor of Taipei and Harvard Law School graduate, may face resistance to his conciliatory approach.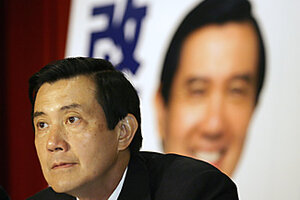 Vincent Yu/AP
TAIPEI AND TAICHUNG, TAIWAN
Voters in Taiwan handed opposition candidate Ma Ying-jeou a landslide victory in Saturday's presidential election, raising hopes of détente with China after eight years of pro-independence brinksmanship that strained ties with the US.
The result was a rebuke to President Chen Shui-bian, whose candidate, Frank Hsieh, lost by 2 million votes out of 13.2 million cast. Analysts said it signaled a prioritizing of economic interests over ethnic identity and the anti-China rhetoric of Mr. Chen's ailing party, which also lost heavily in January's legislative elections.
"Taiwan should be united without using ethnicity as an issue for political purposes... I will be symbol of national unity, not a source of social division," said Mr. Ma at a victory press conference, taking a swipe at the opposition Democratic Progressive Party's (DDP) campaign ads that highlighted his roots on the mainland, in contrast to Taiwanese-born opponents.
---