Rising price of rice keeps U.N. scrambling to feed world's hungry
From Kenya to Cambodia, the World Food Program's offices are struggling to meet their budgets in the face of price increases, sometimes having to suspend vital programs.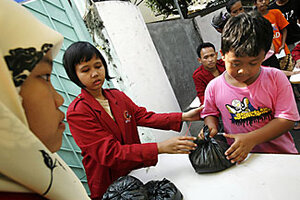 ED WRAY/AP
Thomas Keusters bought several tons of rice in January, as he has done every year for the past three that he has been at the helm of the World Food Program (WFP) office in Cambodia. He thought he was set.
The United Nations' WFP helps feed 1.8 million Cambodians (out of a population of 13 million) by providing rice to the ill, orphans, poor farmers, and hungry children.
Mr. Keusters, a Belgian who has worked for the WFP in Indonesia, Mozambique, Angola, and Sudan, has been through his share of crises. But he wasn't prepared for what came next. In March, panic buying – and hoarding – hit global rice markets.
Five of his suppliers – with a combined outstanding contract for 4,000 tons of rice – abruptly defaulted, unable to secure the rice at the prices ($390 a ton) they had promised the WFP.
They forfeited their 5 percent performance bond and pulled out of the deals.
"In a normal environment we would have basically blacklisted the suppliers," says Keusters. "But in the current environment we had to understand." So, he dived back into the now roiling rice market along with other aid groups and nations scrambling to secure food before the price rose higher.
Keusters and his team of 90 Cambodian and international staff put out calls to rice brokers. But the offers that came back, at $620 a ton, were almost double what they had budgeted. "We just could not live with that," he says.
---