Reporters on the Job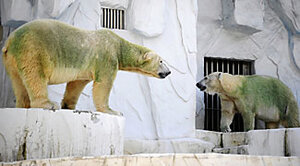 Shuzo Shikano/Kyodo News/AP
• Bomb Threat Fades: The last time staff writer Tom A. Peter embedded with the US Army in Iraq, the roadside bomb threat was a constant one.
"I spent the majority of 2006 embedded," says Tom. "At the time, the convoys in the unit where I was working got hit with improvised explosive devices (IEDs) two or three times a month. I was never in a vehicle that got directly hit, but I've seen quite a few humvees and armored vehicles torn up."
But in six weeks with the US military this summer, Tom hasn't encountered a single IED (see story). "In 2006, whenever you got into a humvee you were pretty much just waiting for something to blow up," says Tom. "After a few weeks of no IEDs this time, it actually became possible to have a relatively stress-free ride in a military vehicle."
– David Clark Scott
World editor
This Week's Look Ahead
• Monday, Sept. 8: Moscow/Tbilisi, Georgia: – French President Nicolas Sarkozy and EU foreign policy chief visit to try to resolve Georgia-Russia standoff.
The Hague: – Hearing on Georgia's request for the UN's highest court to intervene in its dispute with Russia over South Ossetia and Abkhazia.
---