In Canada, Harper's government in crisis
Just seven weeks after the prime minister's party won reelection, the Conservative administration could be toppled.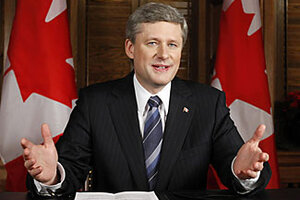 Chris Wattie/Reuters
Canadian Prime Minister Stephen Harper is fighting for his political life, launching a public relations blitz after a coalition of opposition parties formed an alliance this week, vowing to topple the Conservative minority government reelected only seven weeks ago.
In a rare address to the nation Wednesday night, the prime minister pleaded with Canadians to support his government. He also lashed out at the newly formed coalition between the Liberal and New Democratic parties, which hope to form a new government in the next few weeks.
"The opposition is attempting to impose this deal without your say, without your consent, and without your vote," Mr. Harper said during the televised address. "This is no time for backroom deals.... It is a time for Canada's government to focus on the economy and, specifically, measures for the upcoming budget."
Harper was expected to meet Thursday with Canada's governor general to ask her to suspend Parliament, thereby delaying a vote in the House of Commons that could strip his party of power.
The political crisis began last week after the Conservative Party unveiled its first economic policy platform since being reelected seven weeks ago. The opposition parties unleashed a torrent of criticism, charging that the government was unfit to rule because it failed to include a stimulus package for the flagging economy.
---