Inuit sled dog controversy brings troubled past to light
A commission is investigating charges that Canada's federal police killed thousands of dogs in the 1950s and '60s.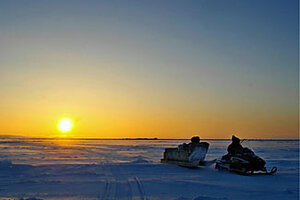 Kevin Frayer/AP
For centuries, the Inuit and their dogs depended on each other for survival.
Teams of the legendary canines pulled hunters' sleds across the Arctic tundra in pursuit of seal and caribou. Now, the dogs are largely gone from the north country – the few remaining teams are used for tourist rides.
"Our dogs were like your workhorses," says Peter Irniq, an Inuit politician and activist, during November testimony before the Qikiqtani Truth Commission, a body established to help tell the Inuit side of history.
In particular, the commission is trying to shed light on what happened to thousands of Inuit dogs. Some in the Inuit community believe Canada's federal police killed thousands of the canines in the 1950s and '60s in an effort to cut Inuit from the land and push them into larger settlements.
However, the change occurred during a time when Ottawa's interest in Arctic lands intensified and imports from "down south," including the snowmobile and alcohol, replaced age-old Inuit practices, including the use of dog sleds.
What's undisputed is that the dog populations almost disappeared. For many Inuit, losing the animals symbolizes their transformation from an independent, traditional hunting society into a marginalized part of Canada.
The Royal Canadian Mounted Police (RCMP) denied conducting systematic killings of the dogs, saying only that it killed roaming or sick animals that posed a threat to public safety, according to the results of an internal inquiry from 2006.
---