Bolivia sets new global high mark for indigenous rights
A new constitution approved handily Sunday also risks dividing the nation.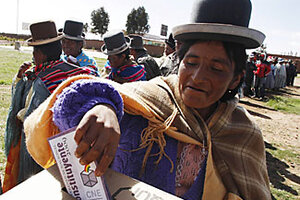 Enrique Castro-Mendivil/ Reuters
Bolivia's first indigenous president, Evo Morales, easily won his campaign for a new constitution Sunday – promising vast new powers to the country's indigenous majority and bolstering his political clout.
Critics say Mr. Morales is dangerously dividing the nation and merely following in the footsteps of populist leftist allies Hugo Chávez in Venezuela and Rafael Correa in Ecuador, who have also rewritten their constitutions to invest the executive branch with more power.
True or not, something more is happening: This is a victory for Latin American indigenous groups marginalized since the Spanish conquest 500 years ago, say analysts, and some see it as a global human rights and racial-equity landmark.
"Bolivia's successful referendum process is precedent-setting with respect to indigenous empowerment worldwide," says Robert Albro, an expert on social and indigenous movements in Latin America at American University in Washington.
Exit polls show that almost 60 percent of Bolivians voted in favor of a new magna carta that recognizes 36 different indigenous groups and secures a place for them in Congress.
"It is really an unbelievable moment in Bolivian history," says Mr. Albro.
He attributes Morales's success in Bolivia, starting with his election in 2005 and capped by this referendum, to the urbanization of Bolivian society and the growing political clout of the indigenous, which has created an indigenous elite.
---