Kosovo's president: Our country is proving itself
On Kosovo's first anniversary, Fatmir Sejdiu says his country can maintain itself as a state.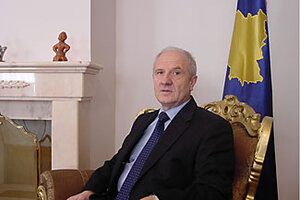 Robert Marquand/The Christian Science Monitor
The Monitor spoke with President Fatmir Sejdiu earlier this month.
What has Kosovo learned over the past year ?
This has been a year of great development.... Kosovo is proving that it can maintain itself as a state, and this is directly linked to its ongoing formation of institutions. To get to this point, we had to make sacrifices. We went through three years of negotiations for status.... [T]here was a great deal of support from the European Union and the United States. And some did not support us. The Russian Federation blocked our progress in the UN Security Council.
We have opened 10 embassies and plan to open several more. We've been recognized by the major states in our region, with the exception of Serbia and Greece. Three-fourths of EU members recognize us, and seven of the G-8 nations call us a state.
What are the main challenges?
---