Independent Kosovo faces new realities
On its first birthday, Kosovo is coping with widespread unemployment and massive corruption.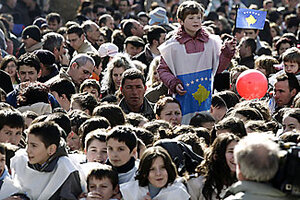 Hazir Reka/Reuters
Kosovo's long quest for independence ended a year ago with fireworks, a philharmonic debut of a national anthem, celebrations of a new flag and Constitution – and great relief by the 95 percent Albanian majority nine years after NATO forced an end to ethnic cleansing by Serbs.
The first birthday is also a gala affair: Streets were filled with families Tuesday greeting each other in the crackling cold. Some 54 states, including the United States and seven of the G-8, recognized Kosovo in the past year, bringing a greater sense of security – and an end to life in limbo.
Diplomats say that the central lesson of the past 12 months is what did not happen in this tiny Balkan nation, where a megalith statue spelling "newborn" still sits in downtown Pristina, the capital.
When Kosovo and the West bucked Russia and Serbia and backed independence, this contested land was called the epicenter of a new cold war. Many predicted a new war and instability, floods of refugees from the 10 Serbian enclaves, and a domino effect of upstart secessionist declarations.
Despite a brief Serb attack on the United Nations last March in Mitrovica, the worst was avoided. "None of the awful predictions took place, and that's huge," says a senior UN official here.
---