Obama caps Turkey visit with student 'town hall'
The president fielded questions on Iraq before heading to Baghdad for an unannounced visit.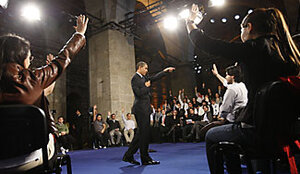 Pablo Martinez Monsivais/AP
President Barack Obama capped off his well-received visit to Turkey with a public diplomacy gesture, meeting with a group of 100 Turkish university students for an unscripted town hall meeting that was broadcast live on television. Like his speech yesterday in the Turkish Parliament, the event was part of Mr. Obama's effort to reinvigorate the Turkey-US relationship, which has been battered by policy disagreements and by what observers say was a lack of American outreach to Turkey.
"In some ways, the foundation has been weakened," Obama told the students, who had gathered in a cultural center housed inside a 17th-century Ottoman building that was once a canon factory. "In some ways, both countries have lost the sense that we are in this together. So I have come to help rebuild that foundation."
"I am personally committed to a new chapter of American engagement," Obama added. "We can't afford to talk past one another, to focus only on our differences, or to let the walls of mistrust go up around us."
---