Obama's visit to Russia stirs hope for a renewed partnership
Since President Obama took office, twice as many Russians report 'positive attitudes' toward the US. But skepticism continues to dominate ties between Washington and the Kremlin.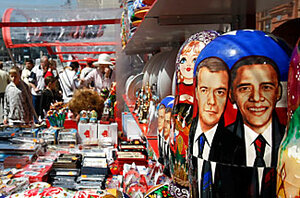 Denis Sinyakov/Reuters
President Obama arrives Monday for two days of meetings with Kremlin leaders, which may help him to determine whether, going forward, Russia will be an ally of the US, an adversary, or just another distraction amid a rising sea of global woes.
A very full schedule for Mr. Obama, which includes a lengthy working session with Russian President Dmitry Medvedev on Monday, breakfast with Prime Minister Vladimir Putin on Tuesday, plus a major foreign policy address and meetings with Russian civil society activists, has done little to calm worries that the agenda holds out scant hope for any strategic breakthrough between the two countries, whose relations have descended into Cold War-style shouting matches at several points in recent years.
"Unfortunately, our agenda contains too many difficult issues; I'll be surprised if we can solve any of them," says Andrei Klimov, deputy chair of the Russian State Duma's foreign affairs commission. "The main task of the presidents is to give an impulse to their respective administrations, to get them moving on mutual problems so that maybe we'll see some results by the end of this year."
---