Global warming threatens Australia's beach life
Parliamentary report in Australia shows 700,000 coastal homes may be at risk if global warming continues and sea levels rise. Local conflicts are brewing over residents who want to build seawalls and town planners who want to move houses away from Australia's beaches.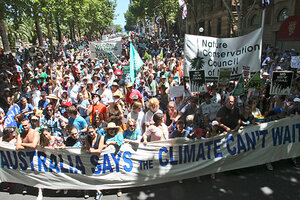 Rob Griffith/AP
A two-mile arc of golden sand in Sydney's northern suburbs, Collaroy Beach is a beautiful spot. "I wouldn't live anywhere else," declares Roger Wright, watching surfers bob in the waves on a recent afternoon.
But Collaroy is not always so idyllic. During severe storms, the beach is lashed by mountainous seas that strip away tons of sand and lap at the gardens of beachside properties. Fences have been washed away and living rooms flooded. Sometimes children can jump straight into the ocean from their backyards.
Long affected by natural erosion, Collaroy now faces additional pressures: It is one of three coastal stretches in Australia identified as most vulnerable to global warming. With scientists predicting more frequent and severe storms, exacerbated by rising sea levels, the multimillion dollar properties along its beachfront are considered at serious risk.
The situation is mirrored around the country; indeed, a recent parliamentary report here warned that thousands of miles of coastline, and billions of dollars of property and infrastructure, are under threat. The committee called for a ban on new development in sensitive areas and raised the possibility of the government forcing people to abandon prime beachfront homes.
The report sent a shiver through a country where the beach, the surf, and the right to a seaside lifestyle are almost sacrosanct. And it adds fuel to local government efforts to curb coastal building. Eighty percent of Australia's population lives within 30 miles of the water, and that proportion is steadily growing. But with sea levels projected to rise globally – if greenhouse gas emissions continue unchecked – by about three feet by 2100, the concentration of people on the coast presents enormous challenges.
---