China's Ant Tribe: millions of unemployed college grads
Despite China's fast-growing economy, many Chinese college grads are struggling to find jobs or scraping by on meager salaries. Beijing worries that this new group - the "Ant Tribe" - could pose a threat to political stability.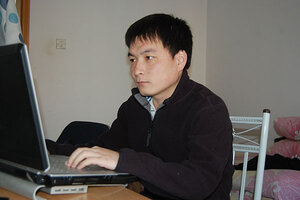 Peter Ford/The Christian Science Monitor
Back when Deng Kun was in college, studying biomedical engineering, he imagined himself working for a company like GE by now, helping to design state-of-the-art medical equipment.
Instead, he spends a lot of his time in the cramped and chilly room he shares with a friend in the outskirts of Beijing, playing video games or trying to line up a job as a salesman.
Mr. Deng moved to the capital when he graduated, he says, because "I thought there would be a lot of opportunities here." He soon found out, though, that "it is not very easy to find a job as an engineer."
Deng is a member of the "Ant Tribe," as sociologist Lian Si has dubbed the swelling ranks of underemployed or underpaid Chinese university graduates frustrated by their failure to fulfill their ambitions.
"Ants are smart" Dr. Lian explains. "They are relatively weak individually but if you don't pay attention to them they can cause a big disaster. There is a Chinese saying that a 10,000 mile dam can be breached by a swarm of ants."
That threat has not escaped the attention of the government. Earlier this year the State Council, China's cabinet, issued a notice warning that the financial crisis had "increased the pressure on graduate employment" and urging ministerial and regional authorities to "put college graduates at the top of their employment agenda."
Bottleneck grows each year
Lian, whose recent book "The Ant Tribe" drew attention to the phenomenon, estimates that there are upwards of three million graduates in China without jobs, or doing work for which they are overqualified.
The problem has been building since 2003, when a record number of students graduated four years after a dramatic expansion of further education in 1999.
China's student population has continued to skyrocket since then, outpacing the ability of even China's fast-growing economy to absorb them.
---