Wyclef Jean Yéle relief: Is this best way to help Haiti?
After the Haiti earthquake, donations have poured into Wyclef Jean's Yéle Haiti foundation. While the organization has been praised for good work, some experts say charitable giving should be focused on larger organizations with established emergency relief programs.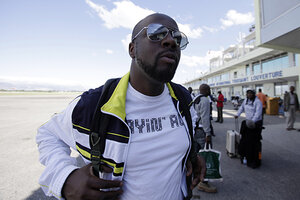 Lynne Sladky/AP
Hatian-born Pop superstar Wyclef Jean's Yéle Haiti Foundation raised more than $400,000 via text messages for aid survivors of the earthquake that rocked the island nation Tuesday. But for people eager to help Haiti in the aftermath of Tuesday's devastating earthquake, are groups like Yéle the best bet?
Probably not, say emergency relief experts and groups who track the effectiveness of charities.
That's not a knock on all the good work Yéle and groups like it have done in the past, but a reflection of the fact that larger and long-standing aid groups have the logistical expertise and staff on hand to manage the chaos of large-scale relief operations, when simply getting aid into the hands of the needy can be a daunting challenge and keeping track of resources and staff are a constant battle.
That background helps control costs and means you get more bang for your charity buck if you're interested in immediate relief. Smaller groups like Yéle work best when the situation is more stable, say experts, when they fill in program gaps in education and other areas that are often overlooked by the heavyweights.
Carlos Castillo, a former administrator at the Federal Emergency Management Administration (FEMA) who now works at PricewaterhouseCoopers, argues in a press release Thursday morning that charitable giving should go to established organizations. "They know what's needed, how to get it there and ensure it gets to the people that need it most,'' the release says.
---