Haiti says it needs $11.5 billion to rebuild after earthquake
Twenty-eight delegations from various countries and organizations are wrapping up a two-day meeting in the Dominican Republic today. Haiti told its partners it needs $11.5 billion to rebuild from earthquake damage.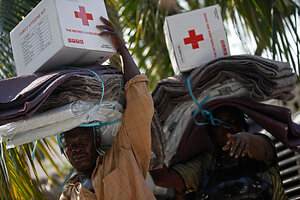 Esteban Felix/AP
The Haiti government said that it will need $11.5 billion to rebuild after a 7.0-magnitude earthquake on Jan. 12 left more than 220,000 dead and large swaths of the capital, Port-au-Prince, in ruins.
The estimate comes from a draft Preliminary Damage and Needs Assessment (PDNA) that was released as 28 delegations from various countries and organizations wrapped up a two-day meeting in Santo Domingo, Dominican Republic, today. The assessment will be presented to a donor's conference for Haiti on March 31 in New York.
"The earthquake has created an unprecedented situation, amplified by the fact that it struck the country's most populous region and its economic and administrative centre," reads the introduction.
The draft lays out specifics on what Haiti's financial needs will be over the next three years to rebuild the homes, schools, roads, government offices and businesses destroyed. But it also lays out a vision for a new Haiti, which includes a stronger sense of government and justice and a plan to decentralize power and economic opportunity to lessen the pressures on Port-au-Prince.
Key word: decentralize
It is a vision that is line with what groups working in Haiti, from large to small, see as the path forward.
"I definitely feel there will be quite a need to decentralize, not just government agencies but economic opportunities, so not everything is in Port-Au-Prince," says Chris Beyer, the program manager for the Florida Association for Volunteer Action in the Caribbean and the Americas, whose group has worked in Haiti for 25 years.
---
Follow Stories Like This
Get the Monitor stories you care about delivered to your inbox.