As world watches Chile earthquake, deadly floods hit quake-rocked Haiti
Even as people compare Saturday's more powerful, but far less deadly Chilean earthquake to the Jan. 12 quake that leveled parts of Haiti, heavy rains are wreaking havoc on Haitians made homeless by the quake.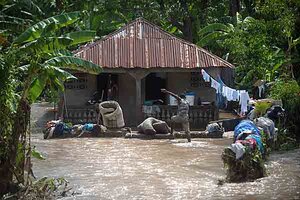 Eitan Abramovich /AFP
Solange Xavier's house in Port-au-Prince disintegrated like a sand castle when the 7.0 earthquake rocked Haiti on Jan. 12. The quake also killed her son.
Ms. Xavier spent last weekend in Les Cayes, some 95 miles southeast of the capital, taking a much needed respite. But on the bus ride home torrential rains nearly carried her away. Blind in one eye, Xavier watched in horror as livestock, suitcases, and dishes floated by. Officials reported that at least a quarter of the town took on rivers of runoff water a meter and a half deep, damaging homes and spreading panic, particularly among those earthquake victims camped out in yards and open spaces. At least eight people were killed.
"If the rains could do this now – before the real rainy season – what is going to happen to those of us living in tents in Port-au-Prince? Or people sleeping on the street?" she asked. "We are all going to be dead."
That's the issue weighing on the minds of most Haitians – and the thousands of aid workers from around the world who are helping the devastated Caribbean nation.
---