With Burma election boycott, Suu Kyi party risks breakup
Aung San Suu Kyi party members announced a boycott on the Burma election Monday to avoid endorsing an 'unfair' process. But the largest opposition group in Burma (Myanmar) now risks being broken up under controversial election laws.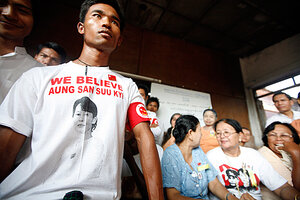 Soe Zeya Tun/Reuters
The largest opposition party in Burma (Myanmar) said Monday it won't contest military-run elections later this year, a move that under controversial election laws could lead to its breakup.
The decision by the National League for Democracy (NLD), whose leader Aung San Suu Kyi is under house arrest, came after a party meeting in Rangoon (Yangon). Spokesman Nyan Win told reporters that members had voted not to participate because "the election laws are unjust," Reuters reported.
The NLD has been gripped by divisions over the logic of an election boycott, which is punishable by party dissolution. Some activists argued that staying out of the political process was futile, while others insisted that capitulation to an undemocratic ballot was wrong.
Monday's decision wasn't a surprise, as Ms. Suu Kyi was recently quoted as saying she was personally opposed to participation but would allow the party to decide for itself. The Nobel Peace laureate, who led the NLD to victory in a 1990 poll that was later annulled, is considered untouchable by many party members.
Cramping Western engagement
The Obama administration has sought to engage with Burma's military rulers while maintaining longstanding sanctions. It has also strongly criticized a 2008 Constitution and the laws governing the election, expected to be held in October or November.
Among the rules laid down by the junta is a ban on prisoners joining political parties, which excludes Suu Kyi and more than 2,100 other political detainees. Monks and civil servants are also banned. Parties have until May 7 to register for the election or face dissolution.
---