Beyond Kasab guilty verdict, Mumbai attacks reshape Indian law
The guilty verdict announced Monday for Pakistani gunman Mohammed Ajmal Amir Kasab closed one chapter of the 2008 Mumbai attacks. But the impact on counterterrorism policy is still slowly unfolding.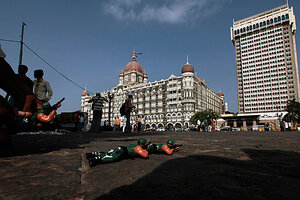 Rajanish Kakade/AP
A year and a half after 10 men with AK-47s debarked on India's commercial capital and launched a rampage that killed 166 people, the trial of the lone surviving gunman is all but over.
On Monday, a judge in a high-security Mumbai court pronounced Mohammed Ajmal Amir Kasab guilty of murder and waging war against India. He will deliver the sentence in 10 days, after which the defendant can appeal.
The verdict brings closure to one of the worst terror attacks in Mumbai's history.
But the impact of the attack on India's counterterrorism policy has barely begun to be felt.
The 2008 attack on Mumbai triggered a shift in Indian antiterrorism law, inducing the government to bring back some of the harsh post-9/11 measures it had repealed just four years earlier.
Kasab is among the first to be tried under an altered legal framework, one that reflects a worldwide struggle to reconcile national security with human rights after the 9/11 attacks.
"Following [former President George W.] Bush's example, many countries implemented harsh antiterror laws," says Colin Gonsalves, a New Delhi-based civil rights lawyer. "But many regret passing those laws now, because of the setback they represent for a democratic state."
---