Oh Eun-sun: South Korea's top mountain climber, but hardly the only one
Four of 21 people who scaled the world's 14 tallest peaks came from South Korea, where mountain climbing is a pastime. Oh Eun-sun claims to be the first woman to do so.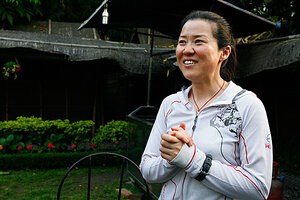 Shruti Shrestha/Reuters
The world may have been surprised when South Korea's Oh Eun-sun became the first woman to summit the world's 14 tallest peaks last week.
But Koreans themselves had no disbelief. Hiking and mountain-climbing are popular hobbies in South Korea, where the land is 70 percent mountainous and citizens are enjoying more leisure time.
Even as young people spend more time at their computers, hiking trails remain packed on the weekends. On tougher climbs in Nepal, some sherpas have even learned to cook Korean food to cater to their clientele.
IN PICTURES: Mountain climbers
In a 2006 poll by the Seoul National University Sports Science Research Center, Koreans ranked hiking as their favorite sport, with 13.2 percent the vote. Soccer came in at 11.8 percent, while running ranked third at 11.5 percent.
"I think it's part of a new leisure lifestyle, as South Korea becomes more like a developed country," says Im Seong-hui, a restaurateur, looking down at Seoul with her husband from atop Munsu Rock in Mount Bukhan National Park.
---