Did South Korea's Oh Eun-sun really climb 14 peaks?
South Korea's Oh Eun-sun claims she is the first woman to scale the world's 14 highest peaks, after clambering on hands and knees to the top of Mount Annapurna in Nepal. But some in the mountain-climbing community question her claim. A by-the-numbers view of her feats.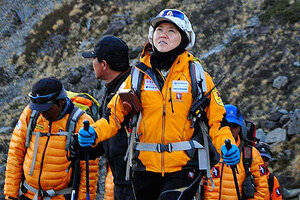 Blackyak/AP/File
By planting her country's flag at the summit of Mount Annapurna in Nepal on Tuesday, South Korea's Oh Eun-Sun has made her mark as the first woman to climb the world's 14 highest mountains, all of them more than 8,000 meters from sea level.
Or has she?
Her accomplishment is being disputed. Rival Edurne Pasaban of Spain, who has scaled 13 of the top peaks, claims that Ms. Oh stopped short of the summit of Mount Kanchenjunga on the Nepal-Tibet border last year.
Ms. Pasaban cites Oh's sherpas as well as Oh's mountaintop photograph that shows her standing on rock, whereas Ms. Pasaban's mountaintop photo is filled with snow. The de facto arbiter of the matter, climbing historian Elizabeth Hawley, said the matter requires investigation.
Meanwhile, here's a by-the-numbers look at Oh's uncontested accomplishments.
The last peak
Height of Mount Annapurna : 8,091 meters (26,545 feet)
Annapurna's ranking in world's highest mountains: 10
---