What Afghanistan lawmakers want General Petraeus to do
General Petraeus takes over a counterinsurgency strategy that has largely failed, say Afghanistan lawmakers from Taliban hot spots Marjah and Kandahar, which have been targeted for key US offensives.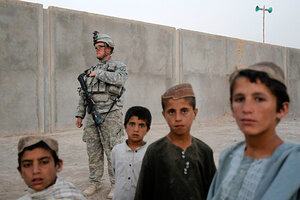 Denis Sinyakov/Reuters
As Gen. David Petraeus prepares to take command of the Afghanistan war, the call from Taliban hot spots Marjah and Kandahar is coming in loud and clear: Do something different, and do it fast.
Politicians from the southern Afghan areas, both targeted for key US offensives, charge that there are fundamental flaws in the way America has been carrying out its counterinsurgency strategy.
They say that two central aspects of the strategy – to protect civilians and bring the rule of law – have largely failed under Gen. Stanley McChrystal, who was replaced by Petraeus this week after he and his team disparaged the Obama administration in Rolling Stone magazine.
Walid Jan Sabir, the member of Parliament (MP) from Marjah district, says the area is at best marginally safer since the US-led offensive in February, which was billed as a key test of the strategy to rout the Taliban and install a government loyal to Kabul and responsive to citizens' needs. But that security, Mr. Sabir says, is deteriorating once more and locals are growing increasingly frustrated at the US presence.
---