Marjah offensive: Q&A on why it matters to Afghanistan war
After weeks of publicizing, US troops are set to launch one of the biggest offensives of the Afghanistan war, against the Taliban stronghold of Marjah in Helmand Province. Here's a briefing on just how important this town is and why NATO gave the Taliban so much advance warning.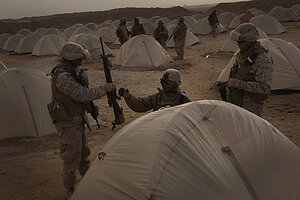 David Guttenfelder/AP
Thousands of United States Marines and Afghan security forces are poised to launch one of the largest offensives of the Afghanistan war. The imminent attack – publicized well in advance by the International Security Assistance Force (ISAF) – will focus on the town of Marjah in the southern province of Helmand.
What is the goal for the mission?
By flushing the Taliban from Marjah, ISAF hopes to be able to link together a disconnected patchwork of towns currently under government control in Helmand.
Marjah remains one of the last strongholds of the Taliban in the southern Helmand River Valley, where much of the population lives. And insurgents, using Marjah as a base, still disrupt the movement of civilians, soldiers, and trade up and down the valley.
"If you are connecting the dots, you are increasing security, creating opportunities for transport, for societies to connect, to exchange supplies, and general economic development," says ISAF spokesman Brig. Gen. Eric Tremblay.
How does this matter for the wider Afghan war?
Since last summer, the US military has gone on the offensive in the province in order to convince residents that they – not the Taliban – had the momentum. And clearing the insurgent stronghold of Marjah is one of many necessary steps for doing that.
---