What's the deal with the new Libyan flag?
As Libyan rebels take over, embassies worldwide have been replacing he old Libyan flag with a new one. Where does this new flag come from?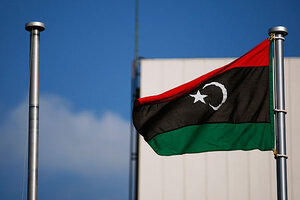 Hiro Komae/AP
Until recently, the flag of Libya held a special place in the hearts of vexillophiles as The World's Most Boring Flag. That's because it was nothing but a green rectangle, with no markings of any kind.
But starting in February, a new flag – red, black, and green with a white star and crescent in the center – has been hoisted at Libyan embassies around the world, from Switzerland to Bangladesh. It is the same flag being flown by the jubilant rebels themselves as they descend on Tripoli.
So what's the deal with this new flag? Is there a Libyan Betsy Ross among the rebels? Where did it come from?
The new flag is actually a retro flag. It's the flag of the Kingdom of Libya, which existed from 1951 to 1969, until a group of military officers led by Col. Muammar Qaddafi overthrew the government. The rebel National Transitional Council is calling for the establishment of a republic, but many of the rebels have been seen displaying photos of the country's first and only king, Idris of Libya, who died in exile in 1983.
Before independence, Libya was governed by the Allies, the Italians, and from the 15th century to 1911, the Ottoman Empire.
---