Libyan rebels send brigade to negotiate surrender of Sirte
After taking the oil towns of Brega and Ras Lanuf, Libyan rebels are trying to persuade Sirte residents to lay down their arms. The city, Qaddafi's hometown, is one of the regime's last holdouts.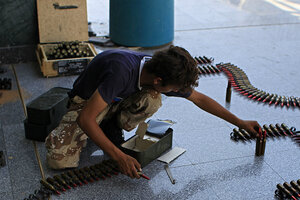 Sergey Ponomarev/AP
Brega and Benghazi, Libya
As Libyan rebels fight for the last remaining pockets of Tripoli still in the hands of Qaddafi loyalists, their eastern comrades are negotiating for a handover of Sirte – Qaddafi's hometown and one of the last cities held by his supporters.
A brigade of rebel fighters originally from Sirte was sent to negotiate with tribal elders to persuade the town to lay down its arms and avoid a bloody battle.
"These are sons talking to their fathers," says rebel fighter Bashir Budufira, leader of the Ajdabiyah Martyrs Brigade.
"I think 75 percent of the people there want a peaceful solution, but there are some people from Qaddafi's tribe and they're not going to surrender," he adds. "They have committed murder, so they're afraid they're going to be punished if they give up."
If rebels manage a takeover of Sirte, it will cap an impressive advance westward from the eastern city of Benghazi that saw key victories in the oil towns of Brega and Ras Lanuf.
The road leading west from Brega is full of holes from bombardments, and littered with burned out tanks, overturned cars, and discarded boxes that held rockets and ammunition, the signs of the rebels' push east.
Victory in Brega, Ras Lanuf
Rebel fighters who have just returned from the front lines describe how they finally dislodged Qaddafi's forces from the strategic oil town of Brega after months of stalemate, the rebel advance impeded by the landmines laid by Qaddafi forces and a desire to protect oil infrastructure.
---