Iraq Arab League summit opens with eyes on Syria
Baghdad, hosting its first Arab league summit since 1990, is hoping to show the region Iraq has put its troubles behind it. But nervous eyes are focused elsewhere, on Syria.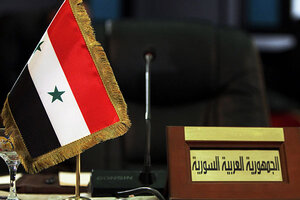 Ali Haider/AP
Iraq opened an Arab League summit Tuesday overshadowed by the war in Syria but aimed at proving that it has emerged from the ruins of war and the legacy of Saddam Hussein.
The gathering of Arab leaders, held under intense security, is the first in Baghdad since shortly before Hussein invaded Kuwait in 1990 and set Iraq on a path of isolation in the Arab world.
"It is a big event – it is the most important event for Iraq to host the Arab summit and it is a recognition of the new Iraq that has emerged since 2003," said Foreign Minister Hoshyar Zebari, who has worked [for more than a year] to repair relations with the Arab world. "This country was isolated many, years ago that's why this is a very, very important thing."
Koffi Annan, the UN special envoy for Syria, will fly to Baghdad to brief Arab leaders on Syria's acceptance of a UN peace plan and the way forward, says a senior Arab official. UN Secretary General Ban Ki-moon will also attend.
Syria's acceptance of Mr. Annan's proposed plan Tuesday could cause more rifts among Arab leaders, already split over how to end the bloodshed. Arab countries are divided between the Gulf states and others skeptical that Syria will fulfill its promises. Those countries are pushing for more pressure against the Syrian president while others insist on a Syrian solution.
Iraq, which now takes over the presidency of the Arab League for the coming year, falls into the latter camp.
---