Spate of bombings in Iraq undermines stability ahead of Arab summit
(Read article summary)
A series of bombings across Iraq today belie Iraq's efforts to portray itself as a stable, resurgent power as it prepares to host the annual Arab League summit for the first time since 1990.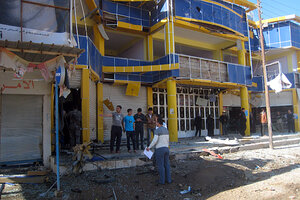 Emad Matti/AP
• A daily summary of global reports on security issues.
Bomb blasts rocked cities across Iraq today, a week before it hosts the annual Arab League summit for the first time in more than 20 years. Its role as host is intended to showcase Iraq's stability after the US withdrawal late last year and its return to a leadership role in the Arab world at a critical time, as leaders weigh the next steps in the Syria conflict.
Among the cities targeted by today's bombings were Baghdad, the northern oil-rich city of Kirkuk, the Shiite holy city of Karbala, the former Sunni insurgent hotbed of Fallujah, and Saddam Hussein's hometown of Tikrit. The bombings killed at least 36 people, according to the lowest estimates. More than 200 were wounded.
---