Shiite pilgrims defy bombings in Iraq to mark Arbaeen
Shiite pilgrims rely on the kindness of Shiites and even some Sunnis who set up hospitality tents along the road to the holy city of Karbala. Both pilgrims and volunteers say they won't be stopped by the risk of violence.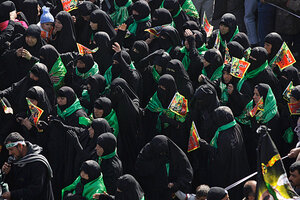 Hadi Mizban/AP
Millions of Shiite Muslim pilgrims, intent on carrying out a commemoration denied to them here for decades, are defying ongoing bombings to converge on the holy city of Karbala.
Most of the pilgrims are in plastic sandals – some with only tape holding them together – during the three-day walk from Baghdad. Some push friends or relatives in wheelchairs and carry small children. A few wrap themselves in the white shrouds they want to be buried in if they die on the way.
Carrying nothing, they rely on the kindness of Shiites and some Sunnis who set up hospitality tents along the way providing food, medical treatment, and a place to rest – despite the risk posed by terrorist attacks.
"They want to stop us from serving the pilgrims but we won't be stopped," says volunteer Jafar Ghazi Mohammad, who lost his mother Saniya Hassan two years ago in the single worst attack on pilgrims, which took place on the northern outskirts of Baghdad. She had volunteered to search women entering the women's tent.
"We're much stronger than them. No matter what they do we're stronger," says Mr. Mohammad.
Distributing oranges from the basket of his bicycle, he and others say they were undaunted by six roadside bombs dismantled by police this week just a few hundred yards from their tent. Police officers, who asked that their names not be used, said the bombs were disguised in bricks and scattered on the gravel near the highway. A seventh exploded, damaging a minibus but causing no casualties.
Pilgrims remember those killed
---