How an Indian wrestler defied gender taboos
Geeta Phogat, who grew up training on a mud floor and was told girls don't compete in such sports, goes to London as India's first female Olympic wrestler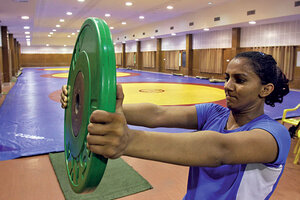 Ajay Verma/Reuters
With no access to padded mats, Geeta Phogat grew up wrestling on a mud floor in an enclosure next to a cattle shed. It was the best training facility that her father, a poor farmer in rural India, could build for his daughter, who he hoped would one day become a world-class athlete.
Yet a lack of mats may have been the least of her problems. As a young girl in Balali, a tiny agricultural village in Haryana, a traditionally conservative state in northern India, Geeta wasn't supposed to be wrestling at all.
Haryana is a place where female children are often thought undesirable and subject to sex-selective abortions. Women's education and work opportunities are frequently cut short by arranged marriages at an early age. Females in her village wear salwar kameez, traditional cotton pajamas, not track suits or wrestling gear.
Yet today, after years of pinning taboos, Geeta will represent her country at the London Games – as the first female Olympic wrestler in Indian history. Her mere presence on the foam pads of London symbolizes a shift in one of India's longstanding gender biases. Women can wrestle.
While Geeta has been unusual in breaking traditions, she's gotten a lot of help from her dad.
"When Geeta started wrestling, we had to deal with a lot of pushback from the community," says Mahavir Singh Phogat, her father and coach. "People told me I should be ashamed of myself for letting my daughters wrestle." (Geeta's three younger sisters also wrestle.) "People in the village and family said no one would ever want to marry my daughters and I was bringing shame to my family."
Geeta says that even in those difficult times her father was always her biggest supporter.
"My father always told my sisters and me that once you succeed, people will automatically be quiet," she says. "And he was right."
---