Phadiela Cooper made a poor township school into one of South Africa's best
The secondary school principal helps her students not only excel in science and technology, but become respectful, mature young adults.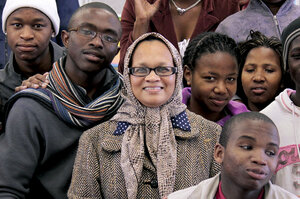 Jason Kehe
The ceremony is almost over – only the final announcement to go. It's what everyone has been waiting for: the names of the top 20 schools in the Western Cape province of South Africa.
The speaker notes that this year, because the rankings are so close, the top 22 schools will be recognized instead.
That explains it, thinks Phadiela Cooper, principal of a small, disadvantaged school in Khayelitsha, a township outside the city. That's why I'm here, sitting in the beautiful residence of the premier of the Western Cape – my school must be No. 22.
But her school isn't No. 22. It isn't No. 21 or 20 either. Or No. 15. Not even No. 10.
Ms. Cooper's school, the Centre of Science and Technology (COSAT), a secondary school that specializes in teaching science, math, and technology, is No. 9 – the first township school in the history of the province to make the top 10. Helen Zille, the Western Cape's premier, makes the announcement herself.
That event was in early January. But Cooper tells the story as though it happened yesterday. "The tears were very close," she says, getting emotional even now. "In fact, I cried a little. It was just so overwhelming."
Go to Khayelitsha, and you'll immediately see why – why she cried a little, why her achievements matter so much. This is not a place that is expected to produce a top-quality school. Townships, usually nonwhite settlements on the outskirts of cities, are some of the poorest places in South Africa.
Khayelitsha is no exception. On the way to COSAT, just a 30-minute cab ride from affluent Cape Town, a visitor passes through the worst districts. Shacks crushed side by side, the makeshift residences of whole families, sit close to the dirty roads, where kids play. Most houses don't have a computer or landline telephone.
---