Nigeria militants step up oil attacks
One year after President Umaru Yar' Adua took power, vowing to bring stability to the oil-rich Niger Delta region, observers say little progress has been made.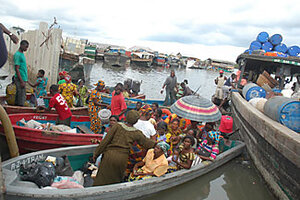 Sarah Simpson
Militants in Africa's top oil producer are marking President Umaru Yar'Adua's first full year in power with fresh pipeline bombings, underscoring the difficulties that civilian rulers have had calming strife linked to Nigeria's notoriously weak and corrupt democratic system.
The Movement for the Emancipation of the Niger Delta's (MEND) latest attack – a nighttime bombing on a Royal Dutch Shell PLC operated pipeline – helped push global oil prices to $133 per barrel.
That explosion, the latest of nearly half a dozen in recent weeks, has raised fears of widening attacks on other oil facilities in Nigeria, the 4th-largest supplier of oil to the United States.
"This attack has passed a strong message to the government," said MEND in an e-mail to the Christian Science Monitor, "since the attack was dedicated to their failure" to bring stability and equality to the oil-rich but dirt-poor Niger Delta region.
Since their formation just over two years ago, MEND has repeatedly attacked oil infrastructure and kidnapped foreign oil workers, cutting Nigeria's crude exports by as much as 25 percent and helping push global oil prices to new highs.
The media-savvy group says it is fighting on behalf of the people of the Niger Delta for greater local control of Nigeria's crude export earnings, but most observers now say such militant groups are more interested in criminal extortion, competing – and sometime colluding – with government officials at all levels for personal profit.
---