As famine looms in Ethiopia, only the neediest get food aid
Aid workers must now choose who's the most malnourished, and experts say the crisis could become as bad as the infamous 1984 famine.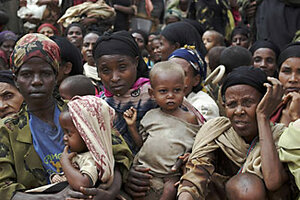 Nicholas Benequista
– One by one, the children are placed on a scale hanging from a makeshift wooden stand.
The mothers look pleadingly at the Doctors Without Borders aid worker, but he keeps his eyes on his clipboard, tallying the figures that determine whether each child is sick enough to eat today.
The scales in a rural clinic in Hadero, Ethiopia, are the latest indicator of the severity of the global food crisis.
There is only enough medicine and high-energy Plumpy'Nut peanut paste for the most severe cases. Outside, hundreds of hungry women and children throng the gates, desperate to go through the same brutal selection process, pushed back by guards brandishing sticks to clear a path for the next in line.
In this African nation, about 10 million people, more than 12 percent of the population, are now in need of emergency food aid after a drought wiped out harvests. But because grain is now twice as expensive as a year ago – if it is available at all – there is not enough food in Ethiopia to feed everyone in need.
Some aid workers are concerned that the combination of forces could force the country into the worst crisis since the infamous Ethiopian famine that killed an estimated 1 million people and was brought home to millions of television viewers across the world in the mid-1980s.
'Prioritizing' aid
Aid workers and government officials are thus forced to "prioritize," a harsh but necessary part of any relief effort, but rarely as grim a task as in Ethiopia at present.
"People don't know yet how widespread and severe the world hunger crisis is," says David Beckmann, president of Washington D.C.-based Bread for the World. "The gruesome things now happening in Ethiopia may be the first example of a country that's being pushed into a humanitarian crisis partly because of bad weather, but partly because of the high price of food and the high price of fuel."
---