In Ghana, a political neophyte, with a household name, campaigns
Samia Nkrumah is the daughter of Ghana's first president. She's returned home to run for a seat in Parliament in Sunday's elections.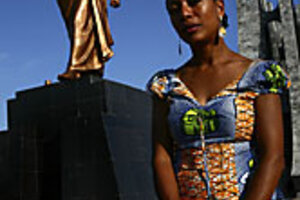 Peter DiCampo
Samia Nkrumah, the daughter of Ghana's first president, Kwame Nkrumah, had been leading "an ordinary life" in Rome as a consultant and freelance journalist.
But after spending 24 years away, she's moved back to Ghana with her husband and 11-year-old son to campaign for a seat in parliament in the remote western district of Jomoro, where her father was raised.
Children capitalizing on their parents' name is not new in politics, as the Bush and Gandhi families can attest. But in postcolonial Africa, the children of the continent's elite are often content to attend university in Europe or the US and live a comfortable life abroad.
"I just felt that this is where I should be. I have a sense of responsibility to come back and honor my father's legacy," Ms. Nkrumah says. "Here, people give me the strength, they give me the blessing, they give me the push to go on."
Instead of writing about Africa from Rome, Nkrumah's days now consist of blazing across Jomoro's dusty, unpaved roads in a four-car motorcade, making campaign stops in village after village in order to visit all 54 villages in the district before elections for 230 parliamentary seats and president are held on Sunday, Dec. 7.
As her SUV approaches each village, she stands through the sunroof, smiling broadly and wheeling her arms in a circular motion. Crowds rush to meet her, dancing and mirroring her arm movements while shouting, "Yeresesamu!" (change).
---