New rival to test South Africa's ANC
The Congress of the People party officially launches on Tuesday. Its leaders – dissidents from the African National Congress – could usher in a more vibrant multiparty era.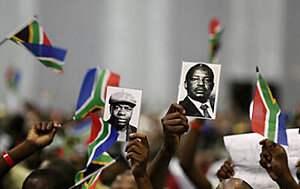 Siphiwe Sibeko/Reuters
Johannesburg, South Africa
Nearly a year after former President Thabo Mbeki lost control of the ruling African National Congress (ANC) party, his supporters launched their own rival political party this weekend, pledging to give South Africa a real multiparty democracy for the first time since the fall of apartheid 14 years ago.
Fresh from their first electoral victories last week, in which 10 members of the new Congress of the People party (COPE) won seats in the Western Cape provincial assembly – compared with the more established Democratic Alliance's nine, and the ANC's four – COPE leaders told members at their convention this weekend in Bloemfontein that the new party would bring back democratic values of dissent and discussion that the ANC's new leaders have "abandoned or jettisoned overnight."
The speed with which this new COPE party has gained its place in South African politics speaks volumes about how unsatisfied many South Africans are with the ANC, which brought the poor black majority political freedom, but failed to deliver on its promises of creating jobs, housing, and better economic conditions to lift that majority out of poverty.
---