Thabo Mbeki: the fall of Africa's Shakespearean figure
South Africa's president was ousted by his own party this weekend.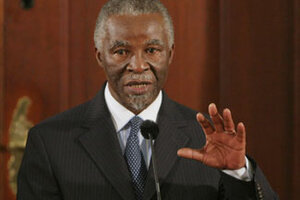 Denis Farrell/AP
Johannesburg, South Africa
In exile, Thabo Mbeki excelled at the secretive work of building left-wing support for his liberation movement, the African National Congress.
As president, Thabo Mbeki succeeded in creating an African Renaissance – securing a decade-long economic expansion, nurturing a rising black South African middle class, and defining a new African diplomacy, where African leaders solve African problems themselves – without Western intervention.
Now that Mr. Mbeki has been ousted this weekend by his own party, he is likely to be remembered as much for his failures – to recognize the mounting AIDS crisis, to extend the nation's prosperity to its poor majority, to deal with rising crime and government corruption – as for his successes.
"He's a highly intelligent man with a firm grasp of policy issues, and he's often way ahead of the debate; he's also surrounded himself with highly intelligent people," says Steven Friedman, director of the Center for the Study of Democracy at the University of Johannesburg. "But I think this shows that you can have a highly intelligent leader who doesn't keep contact with at the base level of the voters. If you don't reach out to people, then it's not going to fly."
---