Congo's risky push to crush rebels
Rwanda's Army moved deeper into neighboring Congo Sunday as part of a surprise deal last week to root out Hutu rebels. But when will Rwanda's troops leave?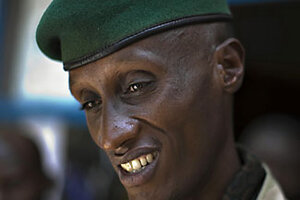 Finbarr O'Reilly/Reuters/File
Nairobi, Kenya; and Kigali, Rwanda
With the arrest of Congolese rebel leader Gen. Laurent Nkunda last week in Rwanda, Congolese President Joseph Kabila would seem to have what he wanted from his surprise deal with Rwanda, inviting the Rwandan army in to help him clear out unwanted rebel groups.
General Nkunda, after all, had led a four-year rebellion against Congo's military in the name of protecting his Tutsi ethnic group against attacks from other ethnic militias, especially the FDLR, a Rwandan Hutu rebel group accused of launching the 1994 genocide against Tutsis. And earlier this year, Nkunda raised the stakes, promising to topple Kabila's government.
But if the price for removing one enemy, Nkunda, meant inviting in another enemy – the well-armed nation of Rwanda – into Congolese territory, why did Congo agree to the deal?
The answer appears to be a mixture of desperation, personal animosity, and incompetence. Given the history of Rwandan interventions in Congo, Kabila's people may pay the price for this deal for months and years to come.
"It seems that Kabila and his entourage were really nervous, and they had to do something big," says Guillaume Lacaille, a Congo expert for the International Crisis Group in Nairobi. Kabila has a history of making bold deals, particularly after his military options have run out and his own hold on power is threatened.
---