How team of rivals could still save Zimbabwe
Opposition leader Morgan Tsvangirai agreed last Friday to form a power-sharing government with longtime President Robert Mugabe.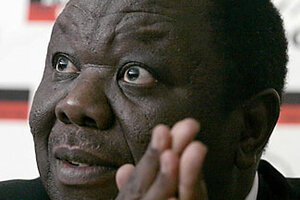 Philimon Bulawayo/Reuters
JOHANNESBURG, South africa; AND HARARE, zimbabwe
If old habits are hard to break, how will Zimbabwe's two warring parties – one led by opposition leader Morgan Tsvangirai, the other by longtime President Robert Mugabe – work together in a coalition government, as Mr. Tsvangirai agreed to do last Friday?
The good news is that after nearly a year of political stalemate and economic collapse, these enemies may have no choice. Mr. Mugabe's long rule has left the country bankrupt, hungry, disease-ridden, and in desperate need of foreign aid. Tsvangirai may not have troops, but he has things Mugabe desperately needs: access to foreign donors and expertise that can make Zimbabwe function again.
It may not be a match made in heaven, but Tsvangirai – the presumed junior partner in a coalition government – can still make a difference in setting priorities – ending the cholera epidemic, fixing basic systems of water and sanitation, and rebuilding the economy – that would give him political leverage in the long term.
"They will work together because of circumstance and not because they want to," says Simon Badza, a University of Zimbabwe political science lecturer. "There is too much pressure on the two parties, locally from the starving masses and fromthe region who want a resolution of the Zimbabwean crisis."
---