Moderate Islamists take on hard-liners in battle for Somalia
Sheikh Sharif Ahmed, a moderate, was elected president last week by Somalia's transitional parliament. But hard-line militant Islamists are fighting to take over the country.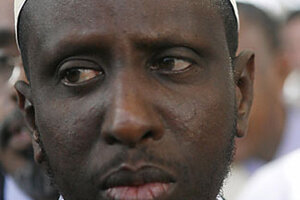 Irada Humbatova/Reuters
The Ethiopian peacekeepers have withdrawn from Somalia and the radical Islamist militia called Al Shabab is rapidly moving in to take control of the war-battered country.
Perhaps the only thing standing in Al Shabab's way is an unlikely enemy: an army of citizens and clerics who are fighting to preserve what's left of the Somalia that they have known for generations.
Western experts call them moderate Islamists; they call themselves Ahlu Sunna wa Jamaa.
Compared with the highly trained, well-funded Al Shabab, which took the transitional capital of Baidoa last week, Ahlu Sunna is poorly armed, but popular. And although the moderate Sheikh Sharif Ahmed was elected president of Somalia by a transitional parliament last week, Ahlu Sunna knows that its time is running out.
"For Ahlu Sunna, a key concept is that everyone has the right to human dignity and peaceful coexistence, and a political war is not part of our principles," says Sheikh Mahamad Moallem Hussein, the secretary-general of Ahlu Sunna, in a recent interview in Kenya's capital, Nairobi. "But when we came to see that there is no life security for the common man, no law and order, and even the dead are not safe – their tombs are destroyed and looted – that is when the situation could not be tolerated any longer."
---