Sudan's Bashir tries to stall Darfur genocide ruling
The International Criminal Court said Monday that it will decide on March 4 whether to issue an arrest warrant for President Omar al-Bashir for charges of crimes against humanity and genocide.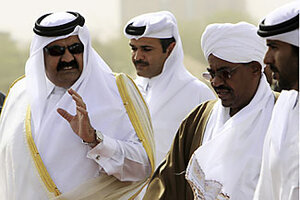 Mohamed Nureldin/Reuters
Johannesburg, South Africa; and Cairo
With an arrest warrant looming over him for crimes against humanity and genocide in Darfur, Sudan's President Omar al-Bashir is on a last-minute bid to win friends and influence people.
In a Sunday visit with Egyptian President Hosni Mubarak – one of the strongest voices in the Arab League – Mr. Bashir explained his concerns about what would happen to his country if the International Criminal Court (ICC) follows through on the chief prosecutor's request for an arrest warrant for Bashir.
The ICC said Monday that it will announce whether to issue the warrant on March 4. Bashir's backers argue that the ICC's pursuit of justice is undermining his leadership and the ability to strike a peace deal with Darfur rebels. While Bashir has racked up a broad range of supporters – from members of the African Union to the Arab League to China – his time seems to be running out.
"There is no exit," says John Prendergast, co-chair of the Enough Project, an Africa advocacy group in Washington. "Of course Bashir is seeking all kinds of political support in order to make the ICC supporters uncomfortable. But at the end of the day, if enough countries downgrade relations [with Sudan] over time because the head of state is an indicted war criminal, the Sudanese ruling party will be thinking very hard about how long it will rally around its leader."
---