Maersk Alabama: Should ships use armed guards to stop Somali pirates?
Lethal or nonlethal weapons? The attack on the US-flagged Maersk Alabama reignites the debate over how to stop Somali pirates.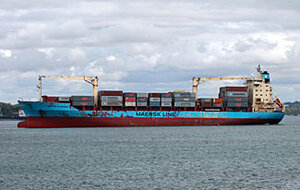 Sayyid Azim/AP/File
Johannesburg, South Africa
The Maersk Alabama was ready this time.
On Wednesday, when a speedboat full of armed pirates launched an attack some 350 miles east of the Somali coast, the Maersk Alabama's armed guards repelled the attack.
While successful, the defense of the Maersk Alabama – a US-flagged cargo ship made famous in April for the rescue by US Navy Seals – raises anew the debate about whether merchant ships should follow its example and hire armed guards when traveling through the ever-expanding territory of Somali pirates.
"There is a major danger of escalation if merchant ships have armed guards," says Roger Middleton, an expert on Somalia and the Horn of Africa for Chatham House, the London think tank. "If pirates approach an unarmed ship, they might shoot to scare. But if they approach a ship and that ship fires back on them, they will shoot to kill."
Somali pirate attacks have been on the upswing for more than a month now that the monsoon storm season in the Indian Ocean and Arabian Sea has ended. Just this week, pirates have attacked and boarded a North Korean-flagged freighter, and pirates released a Spanish fishing trawler after payment of a reported $3.3 million.
---