New study argues war deaths are often overestimated
A new study, the Human Security Report, argues that politics and fund-raising priorities often lead to overestimates of war deaths, touching off a controversy among the researchers who work on the issue.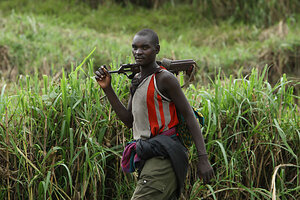 Rebecca Blackwell/Reuters/File
A new report released this week asserts that the human cost of modern warfare has decreased significantly, challenging both the methods and results of other studies.
For instance, the Human Security Report, produced at Simon Fraser University in Vancouver, British Columbia, claims that the widely cited death toll of 5.4 million in Democratic Republic of Congo (DRC) is double what it should be.
The hotly contested report calls into question the larger estimate, made by the International Rescue Committee (IRC), and alludes to controversies surrounding death tolls in Darfur and Iraq. It also questions the most general assumptions about conflict, from how deadly war is to whether the number of war dead can even be counted.
"[It's] not just a battle of titans," says Greg Greenough, director of research at the Harvard Humanitarian Initiative. "It really is [a battle] of philosophies, of how we approach a very difficult question of deaths of people in war."
But it's not just philosophical. Because government, military, and humanitarian officials all take into consideration death tolls and casualty rates, the numbers can play a key role in determining the response to a conflict.
Death tolls, the report argues, are better understood as fundraising arguments aimed at donors than as real scientific estimates of the human cost of war – a contention that has angered experts in the field.
---