In Africa, inheriting a field ... or a feud?
In a story echoed across Africa, two Liberian families are in a tug of war over a single plot.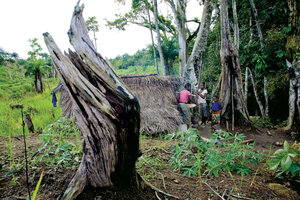 Glenna Gordon/Special to The Christian Science Monitor
A trip to a rice farm near here is like visiting a West African version of the Secret Garden. There's a long trip down a dirt road, then a sweaty hike through the weeds. The path twists past orange, cacao, and coffee trees, through sand castles of fire ants; leaves slap at cheeks and grasses slice ankles – until, suddenly, the brush clears. Acres of silky green rice stalks sway in a breeze, and if it's harvest season, their beige pods bob, boasting nutritious seeds.
Such a farm is a family's lifeline – and can be the site of a fight with stakes high enough to risk violence.
In these rice fields, three girls hoist seven-foot-tall wooden pestles into hand-carved mortars, humming and heaving as they pound kernels of rice – irregular in shape; milky in color; and hard, like dirty diamonds – from their sheaves. This work will feed the Tokpah family.
Across the road, the Meanekan family hoes cassava. Between them, literally and figuratively, is the untouched plot of land their families are fighting over.
Years ago, before titles and deeds and even tribal certificates, the grandfathers of these two feuding families made a deal – a sale, or a loan, depending on which side is recounting the transaction.
Today, the descendants can't agree. Stanford Meanekan, the family patriarch, holds a tribal certificate for the plot of land – the closest thing to a deed in traditional land systems. But the Tokpahs insist the earlier agreement was a favor. They say the Meanekans gave up their land rights when they fled to Guinea during the civil war.
---